In celebration of its 50th Anniversary, the Washington State Jewish Historical Society is proud to announce Agents of Change: 20 Remarkable Jewish Women of Washington State, a landmark exhibit that will premiere at our major community event on October 7, 2018.
Featuring women who have made their mark in a wide array of fields including arts, activism, athletics, education, business, diplomacy, law, politics, religion, and philanthropy, Agents of Change shows the breadth and depth of the contributions Jewish women are making every day in our state and our world.
"2018 is the Year of the Woman," says WSJHS Executive Director Lisa Kranseler on behalf of the selection committee, "and as we were debating possible subjects for our 50th anniversary exhibit, it became obvious that this was the perfect choice. From our mothers and grandmothers to our teachers and community leaders, we have all been powerfully influenced by strong women who have guided and changed our lives. This exhibit is a way to honor all those women by focusing on twenty exceptional representatives from our state."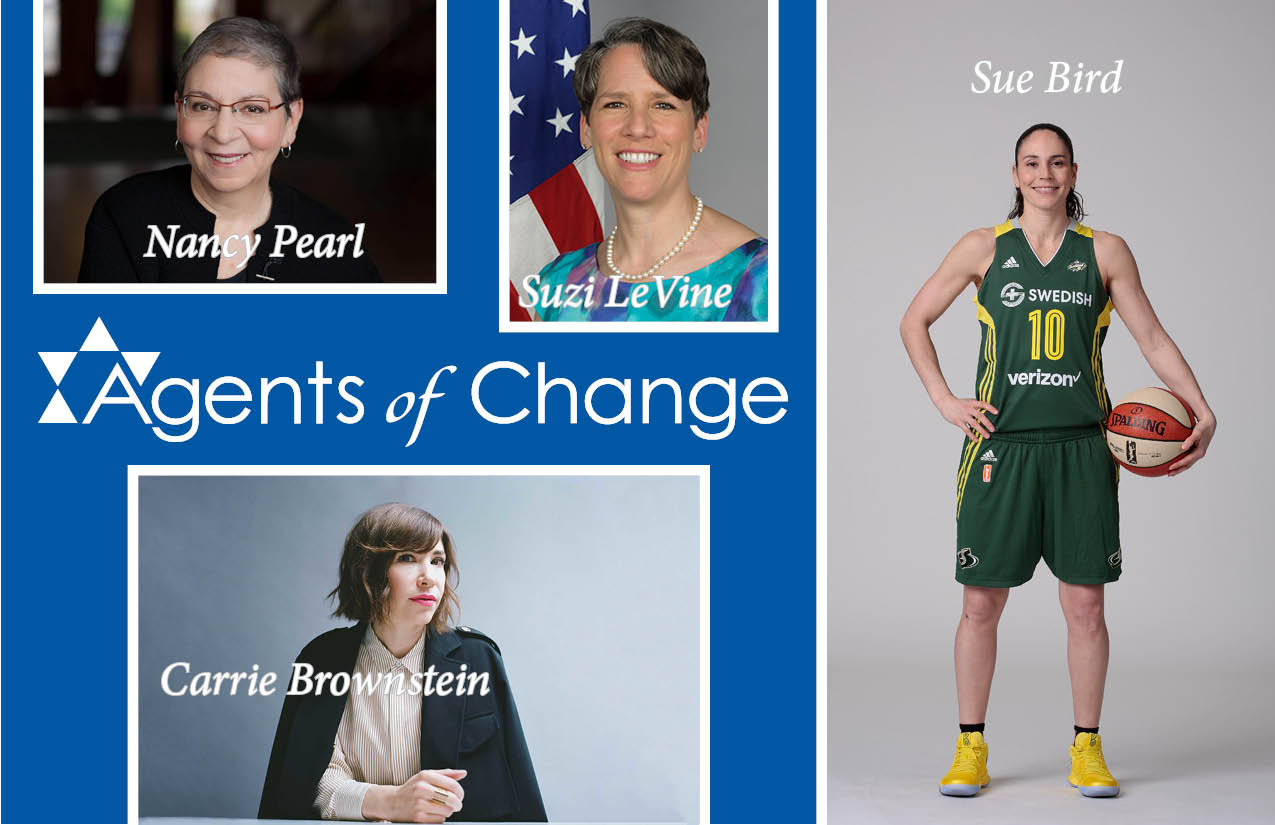 In addition to the exhibit, Agents of Change will also be featured in the WSJHS's new digital museum, the Washington Jewish Museum (WJM), which will include a section on each honoree, including full-length text interviews, video, audio podcasts, and other multi-media content. The WJM will also highlight previous exhibits, including Shalom! Sefarad, Shalom! Open for Business, Family of Strangers, and Distant Replay.
Agents of Change is being sponsored by a 4Culture Heritage Special Projects Grant, the Women's Endowment Fund of the Jewish Federation of Greater Seattle, and the Alfred and Tillie Shemanski Trust Fund. We invite you to honor the women who have been Agents of Change in your life through your tribute to be included in our 50th Anniversary/Agents of Change commemorative book which will be distributed at our celebration event on October 7th.
Washington State Jewish Historical Society is dedicated to discovering, preserving, and disseminating the history of the Jews of Washington state and promotes interest in and knowledge of the life, history, and culture of the Jewish people and communities through publications, exhibits, displays, speakers, tours, and performance.
---
Washington State Jewish Historical Society: Agents of Change Honorees
Doreen Alhadeff - One of the first U.S. Sephardic Jews to regain Spanish citizenship
Becky Benaroya - Philanthropist
Sue Bird - 10-time WNBA All Star; 4-time Olympic Gold Medalist
Bobbe Bridge - Founder, Center for Children & Youth Justice; WA State Supreme Court Justice
Carrie Brownstein - Co-creator, Portlandia; co-founder, Sleater-Kinney
Patty Fleischmann - Co-founder and President, StolenYouth
Michelle J. Goldberg - Venture Capitalist, Ignition Partners
Amy Lavin - Executive Director, Obliteride; CEO, Stroum JCC of Greater Seattle
Suzi LeVine - U.S. Ambassador to Switzerland and Liechtenstein (2014-2017)
Jessica Markowitz – Founder, Richard's Rwanda
Rabbi Rona Matlow – Transgender activist; U.S. Navy veteran
Mina Miller – Founder and Artistic Director, Music of Remembrance
Rabbi Rachel Nussbaum – Co-founder, Kavana Cooperative
Nancy Pearl - Librarian; Book Lust author
Michele Rosen – Board President, Jewish Family Service of Seattle
Barbara J. Rothstein - Senior Judge, United States District Court; Director, Federal Judicial Center
Tana Senn - Member of the Washington State House of Representatives, 41st district
Marcie Sillman - Arts and Culture reporter, National Public Radio member station KUOW
Hilary Stern - Co-founder and Executive Director, Casa Latina (1994-2016)
Janet Varon – Founder and Executive Director, Northwest Health Law Advocates